Schools in Pocahontas County
Schools
The Green Bank Elementary and Middle School (Grades K-8) is located adjacent to the Observatory property in Green Bank. The GBEMS has 365 students. Other county elementary and middle schools exist in Marlinton and Hillsboro. The Pocahontas County High School is located 20 minutes south of Green Bank, about halfway between Green Bank and Marlinton, at the geographic center of the county.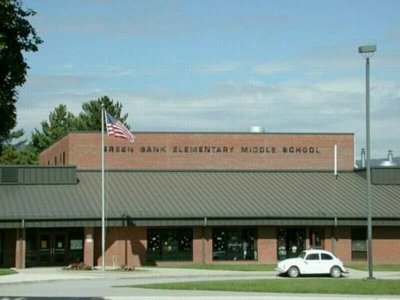 Pocahontas County is very diverse and this presents challenges for local educators. Standardized test scores on a school-wide average at the Green Bank Elementary and Middle school were at the 61st percentile ranking on a national average in 2000/2001. An enrichment program exists for gifted elementary school students. The high school has an active vocational education program and offers a number of advanced placement and college credit courses, mostly through distance learning programs. The schools promote a number of extracurricular academic programs including a Science Bowl, Math Field Days, and Geography and Spelling Bees. The GBEMS has music and band programs starting with 5th graders, and these continue through high school.
The National Radio Astronomy Observatory is the Education Partner of the Green Bank Elementary and Middle School and the Business Partner of the Pocahontas County High School. In a proposal prepared through the GBEMS/NRAO partnership, GBEMS was named one of ten Apple Grant recipients nationwide in 1998, and was provided with a substantial number of computers from the Apple Computer Corp. The Business Partnership between PCHS and NRAO was given a Gold Star Award in 1999 by the Education Alliance, a private foundation for school improvement.
The nearest university is Davis and Elkins College in Elkins. The University of Virginia in Charlottesville is 2.5 hours away, and West Virginia University in Morgantown is 3 hours drive away.